Methodology

Open Access

Open Peer Review
This article has Open Peer Review reports available.
Accelerating clinical development of HIV vaccine strategies: methodological challenges and considerations in constructing an optimised multi-arm phase I/II trial design
Received: 17 January 2014
Accepted: 5 February 2014
Published: 26 February 2014
Abstract
Background
Many candidate vaccine strategies against human immunodeficiency virus (HIV) infection are under study, but their clinical development is lengthy and iterative. To accelerate HIV vaccine development optimised trial designs are needed. We propose a randomised multi-arm phase I/II design for early stage development of several vaccine strategies, aiming at rapidly discarding those that are unsafe or non-immunogenic.
Methods
We explored early stage designs to evaluate both the safety and the immunogenicity of four heterologous prime-boost HIV vaccine strategies in parallel. One of the vaccines used as a prime and boost in the different strategies (vaccine 1) has yet to be tested in humans, thus requiring a phase I safety evaluation. However, its toxicity risk is considered minimal based on data from similar vaccines. We newly adapted a randomised phase II trial by integrating an early safety decision rule, emulating that of a phase I study. We evaluated the operating characteristics of the proposed design in simulation studies with either a fixed-sample frequentist or a continuous Bayesian safety decision rule and projected timelines for the trial.
Results
We propose a randomised four-arm phase I/II design with two independent binary endpoints for safety and immunogenicity. Immunogenicity evaluation at trial end is based on a single-stage Fleming design per arm, comparing the observed proportion of responders in an immunogenicity screening assay to an unacceptably low proportion, without direct comparisons between arms. Randomisation limits heterogeneity in volunteer characteristics between arms. To avoid exposure of additional participants to an unsafe vaccine during the vaccine boost phase, an early safety decision rule is imposed on the arm starting with vaccine 1 injections. In simulations of the design with either decision rule, the risks of erroneous conclusions were controlled <15%. Flexibility in trial conduct is greater with the continuous Bayesian rule. A 12-month gain in timelines is expected by this optimised design. Other existing designs such as bivariate or seamless phase I/II designs did not offer a clear-cut alternative.
Conclusions
By combining phase I and phase II evaluations in a multi-arm trial, the proposed optimised design allows for accelerating early stage clinical development of HIV vaccine strategies.
Keywords
Clinical trialDesignPhase IPhase IIRandomisationFrequentistBayesStopping ruleSafetyHIV vaccine
Background
Although several promising approaches to prevent human immunodeficiency virus (HIV) infection have been put forth in the recent years [1–4], the development of a prophylactic vaccine strategy remains a key goal in the effort to end the HIV epidemic.
The main prophylactic HIV vaccine candidates currently under study include subunit or epitope-based vaccines with or without adjuvants, recombinant virus-vector vaccines and deoxyribonucleic acid (DNA) vaccines. The combination of different vaccines into heterologous prime-boost strategies is today considered a promising approach. Indeed, results of a phase IIB trial in Thailand (RV144 trial), combining a virus-vector vaccine prime with a subunit boost, showed a modest protective effect of the tested HIV vaccine strategy [5]. HIV vaccine development remains ongoing and too lengthy. For instance, clinical development of the components of the HIV vaccine strategy evaluated in the RV144 trial started in the mid-1990s in Thailand, however the results of the aforementioned phase IIB trial only became available in 2009. According to development timelines, a confirmatory phase III trial with an improved vaccine strategy is not projected to start before 2019 [6, 7].
The fact that immunological correlates of protection are not well understood has hampered HIV vaccine development to date [8]. A protective vaccine effect can currently not be predicted on the basis of vaccine-induced immunogenicity markers. Since transition from phase I/II to phase IIB/III trials can thus not rely on a validated surrogate immunogenicity endpoint, and large sample sizes and resources are required for later-stage trials with HIV-acquisition endpoints (phase IIB/III), the clinical development of HIV candidate vaccine strategies is laborious. Phase I and II HIV vaccine trials usually include extensive immunogenicity assessments, measuring both the humoral and cellular immune responses to vaccines with different markers and techniques. All of the above complicates the decision to set up a large-scale IIB/III trial, powered for an HIV-acquisition endpoint. These constraints have resulted in only six HIV vaccine phase IIB/III trials conducted so far, five of which yielded disappointing results without any evidence for protective vaccine effects [9–11].
Recently, calls for accelerated clinical development of HIV vaccine strategies have been put forward, advocating the implementation of adaptive trial designs for this purpose [12, 13]. Indeed, numerous adaptive or multi-stage clinical trial designs for different phases of clinical development are available in the methodological literature. However, these designs were mainly devised for cancer treatment trials, which differ from HIV vaccine trials. In oncology, the patients who are enrolled in trials suffer severe illness requiring treatment. Inefficacious strategies must thus be identified as soon as possible to avoid harm. In contrast to oncology trials, including trials for therapeutic cancer vaccines [14], the development of prophylactic HIV vaccines targets a non-ill population and thus necessitates specific design considerations. Moreover, assessment of endpoints is clearer in oncology trials both because of a higher incidence and more well-defined surrogate endpoints, such as tumour response criteria [15]. The application of adaptive trial designs to HIV vaccine research is challenging given that numerous immunogenicity endpoints without a definite hierarchy are evaluated in phase II trials and that clinical development plans should remain flexible enough to accommodate new scientific knowledge. Thus, trial design optimisation has rarely been considered in HIV vaccine research, yet as the number of potential HIV vaccine strategies under development increases it has become of greater interest [16]. Gilbert et al. proposed an adaptive phase IIB/III design with an HIV-acquisition endpoint for mid- to late-stage clinical development (phase IIB/III), which has yet to be applied in practice [17]. For early-stage development, Moodie et al. recommended a phase IB selection design in 2006 to prioritise among different candidate vaccine strategies the one with the top-rank based on an immunogenicity endpoint. At that time, they considered that knowledge about HIV vaccine immunogenicity was too limited to select vaccine strategies using bounds based on a theoretical response rate [18]. To date, although understanding of vaccine-elicited immune responses still requires much more progress, this justification has evolved. We now consider it purposeful to define an insufficient response level in a widely used, validated immunogenicity screening assay [19].
Currently, more than 20 'generic' HIV candidate vaccines are in early clinical development [16]. Given that generic candidates may be tested with different antigen inserts, that combinations of different candidate vaccines are evaluated and that strategies with the same combination may differ in terms of the timing of injections, the number of potential vaccine strategies is large. Efficient screening of potential strategies and decision making in early stage development is thus crucial. In the present article, we present an early-stage trial design, integrating phases I and II to evaluate both safety and immunogenicity endpoints of several HIV vaccine strategies in parallel and allowing for the rapid cessation of those with insufficient safety or immunogenicity levels.
Methods
Motivating example
Our search for an optimised phase I/II HIV vaccine trial design was motivated by the clinical development plan of a vaccine portfolio comprising three prophylactic HIV candidate vaccines, referred to herein as 'vaccine 1', '2' and '3'.
Vaccine 1 is a viral vector (modified vaccinia Ankara (MVA) virus) expressing HIV antigens, which has not yet been evaluated in humans with the specific HIV inserts used. It therefore requires a phase I safety study before it can be administered to a larger number of volunteers. However, the MVA vector with different HIV and non-HIV inserts has already been studied in previous trials and has a good safety profile in humans [20–26]. Minimal toxicity is thus expected for vaccine 1. The tested target dose (1x108 plaque-forming units) corresponds to the standard dose tested for MVA vaccinations against smallpox [22, 27] and to the dose selected in previous dose-escalation studies of MVA vectors with HIV and non-HIV inserts [20, 24, 28, 29]. No dose escalation is thus planned for this vaccine in our development plan.
Vaccine 2 is a lipopeptide vaccine, including an equal-weight mix of five synthetic HIV-1 peptides coupled to a palmytoil tail (HIV LIPO-5). Vaccine 3 is a deoxyribonucleic acid (DNA) vaccine, encoding for a multi-HIV antigen. Both vaccines 2 and 3 have been studied previously in phase I and II trials and have a good safety record [30–33].
In the clinical development plan of this vaccine portfolio, the three vaccines are combined into four heterologous (that is, using different vaccines in the prime and the boost phase) prime-boost strategies (Figure
1
). Vaccine 3 is currently being considered only for use as a prime vaccine component, and not as a boost [
34
].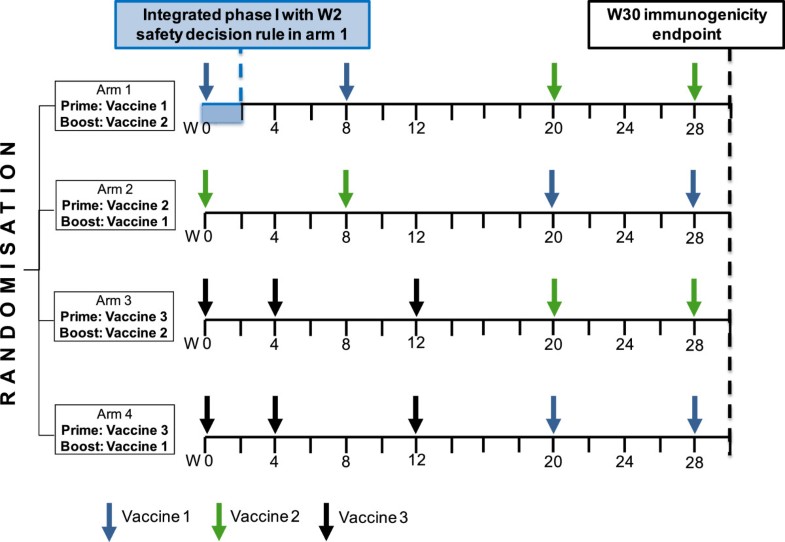 In our clinical development plan, the aim of the phase I evaluation of vaccine 1 at the target dose is to stop administrations of this vaccine as soon as possible in case of a safety problem. The early stage of the phase II evaluation aims at screening each of the four prime-boost combinations for a minimum immunogenicity level. Non-immunogenic or unsafe vaccine strategies should be discarded as soon as possible. A 'classical' clinical development scheme with several phase I and II trials to address these objectives would be a lengthy process. In order to accelerate the clinical development and given the high likelihood of a good safety profile of vaccine 1 similar to the one observed with different HIV inserts, we sought to set up an optimised trial design combining phases I and II for evaluation of the four prime-boost strategies in parallel.
For the purpose of the present work, we defined an 'optimised design' as a trial design allowing for a gain in timelines (and, if possible, in the number of trial participants) compared to separate phase I and II trials, while remaining feasible and respecting the requirements outlined below.
Requirements for the optimised phase I/II vaccine trial design
In searching for an optimised design appropriate for our development plan, we imposed the following methodological requirements:
 First, a randomised multiple arm design is desirable to ensure comparability of populations and unbiased assessment of several vaccine strategies in parallel, even if no direct statistical comparisons are made between arms [35].

 Second, the design requires an evaluation of both immunogenicity and safety endpoints, assessed at different time points, allowing for an early safety decision rule to emulate the phase I evaluation of vaccine 1 during the vaccine prime phase. The dose used for vaccine 1 is considered well below the toxic dose.

 Third, endpoints for immunogenicity and safety are not necessarily correlated, since severe vaccine-related toxicity events and immunogenicity are likely to be unrelated [36].

 Fourth, an important constraint of the design is the fact that safety and immunogenicity outcomes are not observed simultaneously, since the immunogenicity measurements of all participants are planned in batch at a central laboratory at the end of the trial to allow for blinded assessments and to limit measurement error due to time and batch effects.

 Fifth, data integration of phase I into phase II evaluation should be possible to allow for an optimal use of the collected data.

 Sixth, the trial design must be compatible with high early accrual dynamics and with conduct as a multi-centre trial. Prophylactic HIV vaccine trials enrol healthy volunteers, a process that allows for better planning and management of recruitment dynamics than the enrolment of ill patients. To keep costs low, a single call for volunteers is planned for our trial. As previous vaccine trial recruitment studies have shown that a 'waiting time' between the first contact and enrolment may lead to a loss of interest in participation [37], the time between the call for volunteers and the start of the trial will be kept short. Altogether, this is expected to result in high early accrual dynamics.

 Lastly, a design without a control group was favoured since HIV-specific immune responses can be considered to be close to zero in healthy volunteers at low risk of HIV infection, as attested by immune response measurements in prophylactic HIV vaccine trials at baseline or in a placebo arm [20, 21, 38–40]. A vaccine strategy meeting the immunogenicity endpoint can therefore be deemed clearly distinct from a potential control group. Given that the volunteers in the planned trial will have a low-risk profile (restricted by the eligibility criteria) and the fact that all participants will receive an experimental vaccine strategy, we considered it unlikely that differential risk behaviour during the trial would have an impact on the immunogenicity endpoint.
A summary of these requirements is shown in the list below:
▪ randomized multi-arm trial

▪ evaluation of both efficacy and safety endpoints, with:

early safety decision rule

difference in timing of the evaluation between the two endpoints

assumption that toxicity events and efficacy are likely unrelated

efficacy outcome not observed in real-time (measured in batch in central lab at end of the trial)

data integration of phase I into phase II efficacy evaluation

▪ compatibility with high early accrual dynamics and with conduct as a multi-centre trial

▪ no control arm
Moreover, although not a formal design requirement, an open-label design was preferred since the immunogenicity endpoint can be measured objectively and laboratory staff performing the measurements centrally will be blinded to trial arm and time point. Although a blinded control group would limit bias in the evaluation of safety, implementation of blinding is difficult in practice: indeed, blinding would require the introduction of dummy vaccine injections in each trial arm, since vaccination time points during the prime phase vary between vaccine strategies (Figure 1). Additional immunogenicity sampling time points after each dummy shot would then be necessary for maintaining blinding, requiring large amounts of blood. Blinding participants and site staff was thus not pursued for this trial design, but we acknowledge that a blinded placebo control arm could be helpful for safety assessments when feasible.
Search for the optimised design
We first searched the literature for existing trial designs fulfilling the requirements outlined above in order to be appropriate for application to early stage clinical HIV vaccine development. We performed a literature search in Pubmed/Medline using the search terms ('Clinical Trials, Phase II as Topic' [MAJR]) AND ('Therapeutics/adverse effects' [MeSH] OR safety OR toxicity). In addition, the review and manual of phase II designs by Brown et al. were used to identify potential designs for our context [41]. Moreover, we reviewed the reference lists of the most relevant articles.
We then adapted a randomised phase II design to include an early safety decision rule during the prime phase of vaccine 1. We evaluated two types of statistical approaches for the safety decision rule: (1) a fixed-sample rule from a frequentist perspective; and (2) a continuous safety monitoring approach from a Bayesian perspective. Simulation studies were built to evaluate the statistical properties of the design with either decision rule. For each simulation scenario under different underlying safety and immunogenicity hypotheses, the participant outcomes for a trial arm with a safety decision rule (arm 1 in our trial design) were drawn from independent binomial distributions of the binary safety and immunogenicity endpoints respectively, and repeated in 10,000 simulation runs. We also performed ancillary simulation studies based on draws of participant outcomes from multinomial distributions, with specified joint probabilities of the two endpoints (corresponding to positive correlations from 0.1 to 0.5 between immunogenicity response and occurrence of vaccine-related toxicity events) [42], while keeping the marginal proportions of the endpoints constant. Recruitment dynamics were not taken into account for the simulation studies. Simulations were performed with R software, version 2.13.0 (The R Foundation, Vienna, Austria).
Furthermore, we projected the expected dynamics of recruitment into the trial and the gain in timelines of the clinical development plan by the proposed design based on our previous experience setting up and conducting HIV vaccine trials in France [32, 43, 44].
Results and discussion
We adapted a randomised phase II design by including two different types of early safety decision rules. We first describe the characteristics of the proposed design with each safety decision rule and its practical implications. We then discuss potential alternative designs as well as potential limitations of our design and further perspectives.
Conclusions
We used a pragmatic approach to design an optimised randomised phase I/II trial for the evaluation of the safety and immunogenicity of several HIV vaccine strategies. The design can include either a frequentist fixed-sample or Bayesian continuous early safety decision rule and allows for data integration of phases I and II for the final analysis. Therefore, acceleration of early clinical development of HIV vaccine strategies is, to some extent, possible, but requires thoughtful planning at the design stage. Validation of surrogate markers for HIV vaccine efficacy will be crucial for the implementation of more complex adaptive phase II designs.
During the HIV vaccine development process, candidate vaccines are often improved in terms of the antigen inserts used. The situation where a well-known vector with a modified insert is administered first in humans without dose escalation is thus not unusual in HIV vaccine development portfolios. Similar thoughts may also apply to vaccine research for other diseases requiring complex vaccine strategies, for example, malaria vaccines. Although some aspects discussed in this article are specific to HIV vaccine research, the suggested early-phase design could therefore also be useful for the clinical development of other complex vaccine portfolios with similar methodological requirements.
Abbreviations
DNA:

Deoxyribonucleic acid
ELISPOT:

Enzyme-linked immunospot
HIV:

Human immunodeficiency virus
Inserm-ANRS:

Institut National de la Santé et de la Recherche Médicale-Agence Nationale de Recherches sur le Sida et les Hépatites Virales (French National Agency for Research on AIDS and Viral Hepatitis)
MVA:

Modified vaccinia Ankara
IFN-γ:

Interferon-gamma
IQR:

Interquartile range
VRI:

Vaccine Research Institute
W:

Week.
Declarations
Acknowledgements
The Vaccine Research Institute (VRI) is funded by the French government and receives support from the French National Agency for Research on AIDS and Viral Hepatitis (Inserm-ANRS).
L. Richert received a PhD grant financed by Sidaction (http://www.sidaction.org). A. Doussau received a PhD grant financed by the French National Cancer Institute (INCa, http://www.e-cancer.fr).
We thank Diana Barger (Centre INSERM U897) for her assistance in editing the manuscript.
ANRS VRI 01 protocol team
VRI Clinical Core: Jean-Daniel Lelièvre and collaborators (Groupe Henri-Mondor Albert-Chenevier, Créteil); Frédéric Lucht and collaborators (CHU, St Etienne); Odile Launay and collaborators (Hôpital Cochin, Paris); Isabelle Poizot-Martin and collaborators (CIC-UPCET, Marseille); Dominique Ducard, Dominique Maingueneau, Caroline Ollivier-Yaniv (UPEC, Créteil); Vincent Arnold, Florence Allais, Geneviève Chêne, Catherine Fagard, Lucile Hardel, Adélaïde Perrier, Helen Savarieau (Centre INSERM U897, Bordeaux).
VRI Biostatistics Core: Laura Richert, Rodolphe Thiébaut (Centre INSERM U897, Bordeaux).
VRI Immunology Core: Christine Lacabaratz, Yves Lévy, and collaborators (INSERM U955, Créteil).
Inserm-ANRS: Amel Bouakane, Alpha Diallo, Véronique Rieux (Inserm-ANRS, Paris).
Authors' Affiliations
(1)
Université Bordeaux, ISPED, Centre INSERM U897-Epidemiologie-Biostatistique, Bordeaux, France
(2)
INSERM, ISPED, Centre INSERM U897-Epidemiologie-Biostatistique, Bordeaux, France
(3)
Vaccine Research Institute (VRI), Créteil, France
(4)
CHU de Bordeaux, Pole de sante publique, Bordeaux, France
(5)
INRIA SISTM, Talence, France
(6)
INSERM U955, Créteil, France
(7)
Faculté de Médecine, Université Paris Est Créteil, Créteil, France
(8)
Groupe Henri-Mondor Albert-Chenevier, Immunologie clinique, Créteil, France
(9)
French National Agency for Research on AIDS and Viral Hepatitis (Inserm-ANRS), Paris, France
(10)
Centre INSERM U897, Université Bordeaux, Bordeaux cedex, France
Copyright
© Richert et al.; licensee BioMed Central Ltd. 2014
This article is published under license to BioMed Central Ltd. This is an Open Access article distributed under the terms of the Creative Commons Attribution License (http://creativecommons.org/licenses/by/2.0), which permits unrestricted use, distribution, and reproduction in any medium, provided the original work is properly credited. The Creative Commons Public Domain Dedication waiver (http://creativecommons.org/publicdomain/zero/1.0/) applies to the data made available in this article, unless otherwise stated.